PNC Family Challenge Clinic
Saturday, October 13th
PGA professionals are needed to help conduct a two hour clinic in conjunction with the PGA Tour Champions SAS Championship. This is your chance to be inside the ropes with the greats from the PGA Tour Champions like Tom Lehman, Steve Stricker, Bernhard Langer, Nick Faldo, Darren Clarke and John Daly. Participants will earn 2 PGA MSR re-certification credits (Growth of the Game).
The SAS Championship at Prestonwood Country Club is celebrating its 18th anniversary this October, and they have partnered with PNC Bank to introduce the 4th Annual PNC Family Challenge Clinic.
This special event will occur on Saturday, October 13th from 4:30-5:30 p.m., following second round play of the SAS Championship. The clinic will provide free golf instruction and culminate with Q&A, meet and greets, and autograph sessions with PGA Tour Champions players that participate in PNC's Father-Son Challenge that is annually held in Orlando.
This is your chance to help out at a fantastic community event and rub elbows with some of the PGA Tour Champions greatest players, all while earning re-certification credits. Professionals will also receive a free SAS Championship shirt and lunch courtesy of PNC Bank and the SAS Championship. Tournament officials are looking for 35 professionals to be in attendance to help instruct an estimated and anticipated maximum of 150 participants – minimum age is 8 years old and will include both kids and parents.
If you can help, please click on the link below or contact Larry Conner, PGA Director of Golf Operations at Prestonwood Country Club.
Larry D. Conner, PGA
919-465-4807
lconner@prestonwoodcc.com
Brad Luebchow claims 2018 Nat'l Car Rental Assistant PGA Professional Championship
September 11, 2018
(Greensboro, NC) – The 2018 National Car Rental Carolinas Assistant PGA Professional Championship is complete. We lucked out with a sunny day at Starmount Forest CC and many good rounds. All players were vying for one of the six qualifying spots for the 42nd National Car Rental Assistant PGA Professional Championship, to be held November 15-18 at PGA Golf Club's Wannamaker Course in Port St. Lucie, Florida.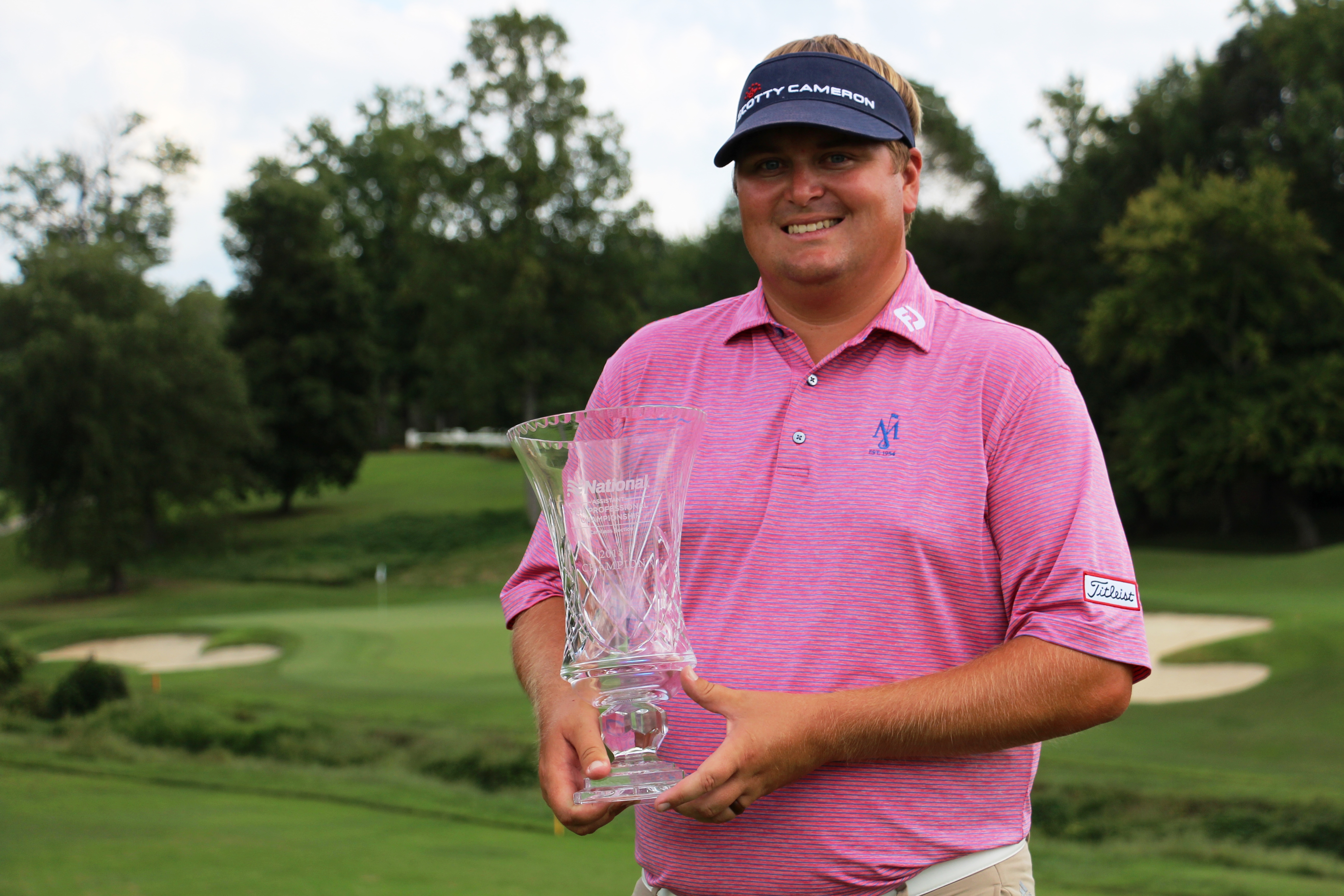 Dominating the course today and winning this year's championship was Brad Luebchow, Assistant Professional at Maple Chase G&CC. Luebchow played this course with finesse as he carded a 7 birdie, bogey-free, round of 64. This catapulted him three shots ahead of anyone else in the field, at 9-under par for the 36-hole event. "It was a good break to play with the leader and see what he was doing. He played great and I just tried to stay focused on what I needed to do to catch him," said Luebchow, when reflecting on his mindset for the day. "I birdied four of the last six holes. Fortunately, a lot of putts went in…the putter got hot!" Full of smiles, Luebchow reflects on the final stretch of holes: "I was feeling a little extra excited so I was trying to breathe and make sure I kept myself calmed down."
Coming in second place with another bogey-free, under-par round today is Tommy Gibson, from Old Town Club, who shot 4-under, putting him at 6-under par for the event. Two players finished tied for the third spot, one shot back from Gibson. Grant Lancaster, from Kilmarlic GC, and Drew Bateman, from Diamond Creek GC, shot 5-under to secure their spots in the National Championship in November with Luebchow and Gibson. Bateman finished his round today with five straight birdies, not backing down from the high level of competition. Rounding out the two remaining qualifying spots is Christopher Finke, from CC of Asheville, who won our first playoff hole, and Ray Franz, from Daniel Island Club, winning on the fifth playoff hole.
Congratulations, again, to our champion and our six qualifiers! When Luebchow was asked if he was excited about his win: "You think?! My goodness! I'm so stoked! This is validation of a lot of hard work and practice. I'm very fortunate."
For the second day in a row, thanks to our supporting partners, Kirk & Matz and Oakley, we are able to host two closest-to-the-hole competitions on hole #3 and #17, respectively. Winning the second round $100 from Kirk & Matz is Adam Stevenson, from Treyburn CC, who nearly made a hole-in-one, hitting it to 8" on the par-three, #3. Evan Hyma, from Diamond Creek GC, hit his shot on #17 to 2'6" to win a pair of sunglasses from Oakley. Great shots to Adam and Evan!
There were two skins won during this event. Congratulations to Spencer Lawson for his eagle on the par-four, #9, and Peter Skirpstas for his eagle on the par-five, #14!
The 2018 Carolinas Assistant PGA Professional Championship is a Golf Max CPGA Assistants' Association Player of the Year points event.
View full results here >>>>
View photos from the event here >>>>
Steve Scott Wins the 2018 Carolinas PGA Professional Championship
August 29, 2018
(Hilton Head Island, SC) – The 2018 Carolinas PGA Professional Championship is complete, here at Sea Pines Resort. Players competed for the title on a gorgeous day at Harbour Town Golf Links and there was plenty of nail-biting competition among everyone.
Coming out victorious in this prestigious event is Steve Scott who finished his 54-holes at 2-under par. Scott, from The Outpost Club, was not far from the top of the leaderboard after the first and second rounds of play. He fought hard through the tough conditions yesterday and proceeded to hold steady in today's final round, shooting +1 to hold him above the rest of the field. "I tried to bogey myself to death in the last few holes but I made enough birdies to offset it and it worked out," said Scott, when reflecting on his round. "The shot that really put me over the edge was on the 17th hole. I hit an 8-iron from 172 to about 6 inches; that really helped."
| | |
| --- | --- |
| | |
Scott qualified for the RBC Heritage tournament in the first round of the CPGA Head Professional Championship back in March. Having competed in the RBC Heritage on this exact course in April provided him a huge advantage to the rest of the field. "There are a lot of angles you have to figure out, so it was beneficial to have played this course a couple times."
During this event, all competitors were vying for one of the nine spots to qualify for the 51st PGA Professional Championship to be held in the Carolinas Section at Belfair in Bluffton, SC, April 28 – May 1, 2019. There are four players that tied for second and barely missed Scott, shooting 1-under for their 54-holes. Jerry Haas, head golf coach at Wake Forest University, shot the second lowest 18-hole score of the tournament, 4-under, to advance himself up to this position. Also tied with Haas is John Thompson of Carolina Lakes Golf Club who shot 2-under today. Matt Bova of Secession Golf Club and Cory Schneider from the Pointe Golf Club were the other two competitors to tie for second and round out the top five qualifiers for the PGA Professional Championship. Neal Lancaster finished in that sixth spot at even-par. Rohan Allwood claimed the seventh spot, finishing at 1-over. Three players tied for eighth, leading to a playoff to determine the eighth and ninth spots. Matt Vick birdied the first playoff hole to claim the eighth spot followed by Drew Bateman making a par on the second hole to round out our qualifiers. Congratulations to all qualifiers!
Another big "congratulations" to Steve Scott for his victory. "I really have to thank The Outpost Club. They gave me the opportunity to be a mobile golf professional and allows my family to be close to more family. I have never been happier and it has meant a lot to me."
"I love competing, it's in my blood," says Scott. "It means a lot to be able to compete here and to play well and beat a great field on a world-class golf course!"
Congratulations once again to all of our closest-to-the-hole winners this week for their great shots!
Winston Collection: Harbour Town – Hole #4 – Round 1: Scott Hunter – 3'7"; Round 2: Jonathan Dudley – 5'6"
True Temper: Harbour Town – Hole #14 – Steve Bodganoff – 3'6"
Global Golf Sales: Harbour Town – Hole #17 – Rohan Allwood – 2 inches
Club Car: Atlantic Dunes by Davis Love III – Hole #15 – Jeremy Lee – 4'2"
The Carolinas PGA staff could not be more thankful for all of Sea Pines Resort for the generosity and hospitality. Cary Corbitt, John Farrell and their entire staff could not have been more accommodating with volunteers, food & beverage, golf staff, and support during our weather issues during the second round. Overall, the three days were wonderful and we thank them tremendously!
The 2018 Carolinas PGA Professional Championship is an official Bob Boyd CPGA Player of the Year Award Presented by OMEGA points event. Additionally, PGA Professionals' scores count toward the CPGA Johnny Palmer Trophy Presented by True Temper.