AREA V DOMINATES TO CAPTURE CPGA GLOBAL GOLF SALES AREA CHALLENGE TITLE
Scooter Buhrman, Brock White & Matt Vick Shoot a Spectacular 53 Point Total!
It was a great day at Greensboro Country Club – Irving Park as ten area teams competed for the 2017 Carolinas PGA Global Golf Sales Area Meeting and Golf Challenge Presented by Bionic Glove, Haas Jordan, Maui Jim, Source4 and Sterling Cut Glass. The Area V team of Scooter Buhrman (Gates Four G&CC), Matt Vick (Pinehurst CC No. 7) and Area Director Brock White (Methodist Univ. PGM) carded an impressive score of 53 points in this modified stableford scoring event to capture the title.

Area champions and board members gathered for a fun day of golf and fellowship, with an outstanding tee gift package compliments of our event partners. A special thank you to GCC PGA Professionals Bud Taylor, Brandon Nowak and Evan Moser for hosting this prestigious event.

We could not conduct our area meetings without the support of our partners and hosts. Thank you to:
Global Golf Sales: Jim Hollis
Bionic Glove: Bill Shake and David Alan Day
Haas Jordan: Dave Sherrow
Maui Jim: Jay Johnson
Source4: Mike Bosche
Sterling Cut Glass: Dave Wormwood
PGA Host Professional: Director of Golf – Bud Taylor, PGA
Global Golf Sales Area Golf Challenge Results
1st: Area V Brock White-Matt Vick-Scooter Buhrman - 53 pts
2nd: Area VIII Chris Byrd-Jason Cherry-Bryce Chaffee - 49 pts
3rd: Area IV Bill Hall-Craig Adolff-Savio Nazareth - 49 pts
Global Golf Sales Closest to the Hole #2:
1 – Carl Beaman 0' 1" - $100*
2 – Derek Watson (8'3") - $50*
Maui Jim Closest to the Hole #6
Jason Cherry 3'1"
Source4 Closest to the Hole #12:
Bryce Chaffee 6'7"
Haas Jordan Closest to the Hole #16
Bobby Anglin 2' 0"
4 CPGA Professionals Qualify for 2018 Sr. PGA Professional Championship

We're excited to share that four Carolinas PGA members have qualified for the 79th KitchenAid Senior PGA Championship, May 22-27, 2018 at Harbor Shores in Benton Harbor, Michigan due to their recent top-35 finish at the Senior PGA Professional Championship. These professionals include: Neal Lancaster, Rick Morton, Gus Ulrich, and Joe Daley. What an awesome accomplishment! Congratulations to all!

Club Car / National Car Rental CPGA Pro-Official Results
(Linville, NC) - The team of Jason Gentel and Mike Crawford of Winding Creek Golf Course in Thomasville, NC won the 2017 Club Car / National Car Rental Carolinas PGA Pro-Official Championship Presented by Stitch Golf.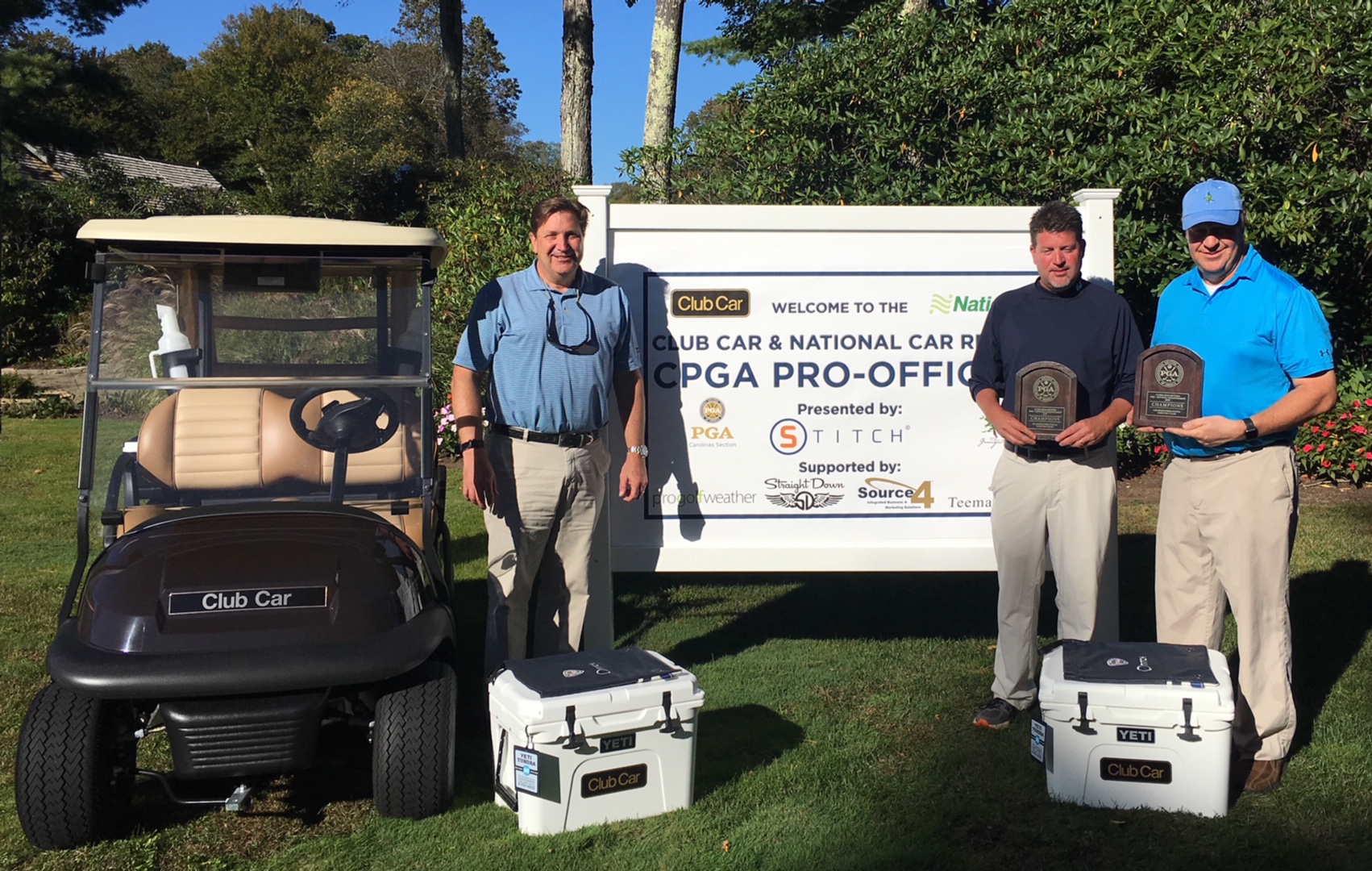 (L-R) Club Car Representative Danny Lasure
with Champions Jason Gentel & Mike Crawford (a)

​Gentel, the club's PGA Head Professional, and Crawford, the club's Tournament Chair posted a 32-34=66 (-6) in the one ball net format. Their margin of victory was only one stroke over Hope Valley Country Club's PGA Head Professional Bob Byrnes and President Keith Burns who carded a 35-32=67 (-5).

62 teams of one PGA Professional and his/her respective club President, Vice President, General Manager, Committee Chair, etc. were fortunate enough to visit the venerable Grandfather Golf & CC for a day of fun. They received a number of special tee gifts from each of the partners and could not have asked for better weather and course conditions. Additionally, Club Car hosted a special putting contest the evening prior on a course specially designed by the Grandfather
maintenance staff.

The Carolinas PGA sincerely thanks the staff and members of Grandfather G&CC for their incredible hospitality. There's no place quite like Grandfather.

TITLE PARTNERS
Club Car – www.ClubCar.com. Club Car presented some commemorative 2017 PGA Championship tee gifts. Additionally, the tournament winners received two large Yeti coolers.
National Car Rental - www.EmeraldAisle.com/proampga. The National Car Rental PGA Pro-Am Series is a collection of hundreds of pro-am tournaments being conducted by the 41 PGA Sections. Of all the participants across the country, eight teams who are fully enrolled in the National Car Rental Emerald Club will be randomly drawn to enjoy a VIP golf experience with PGA Tour golfer Keegan Bradley, his father PGA Professional Mark Bradley, and World Golf Hall of Famer Pat Bradley.
PRESENTING PARTNER
Stitch Golf – www.StitchGolf.com. Each competitor received a personalized Ultimate Garment Bag. Additionally, they conducted a closest-to-the-pin contest for two wine caddies.
SUPPORTING PARTNERS
Straight Down – www.StraightDown.com. Each competitor received a PGA logoed golf shirt and outerwear piece. Additionally, they conducted a closest-to-the-pin contest for a custom clothing article.
Source4 – www.Source4.LogoMall.com. Each competitor received a PGA logoed mobile phone charger. Additionally, they conducted a closest-to-the-pin contest for a large cooler.
Teemark – www.TeeMark.com. Each competitor received a personalized leather golf bag tag. Additionally, they conducted a closest-to-the-pin contest for an engraved gift box and a custom PGA Professional staff plaque.
ProGolfWeather – www.ProGolfWeather.com. Provided complimentary weather radar coverage.