Lancaster Takes OMEGA Carolinas PGA Match Play Championship
(Durham NC) – Neal Lancaster, PGA has captured the 2019 OMEGA Carolinas PGA Match Play Championship held this week at the exclusive Old Chatham Golf Club in Durham, NC. Wednesday featured the semi-final matches in the morning followed by the final championship match in the afternoon.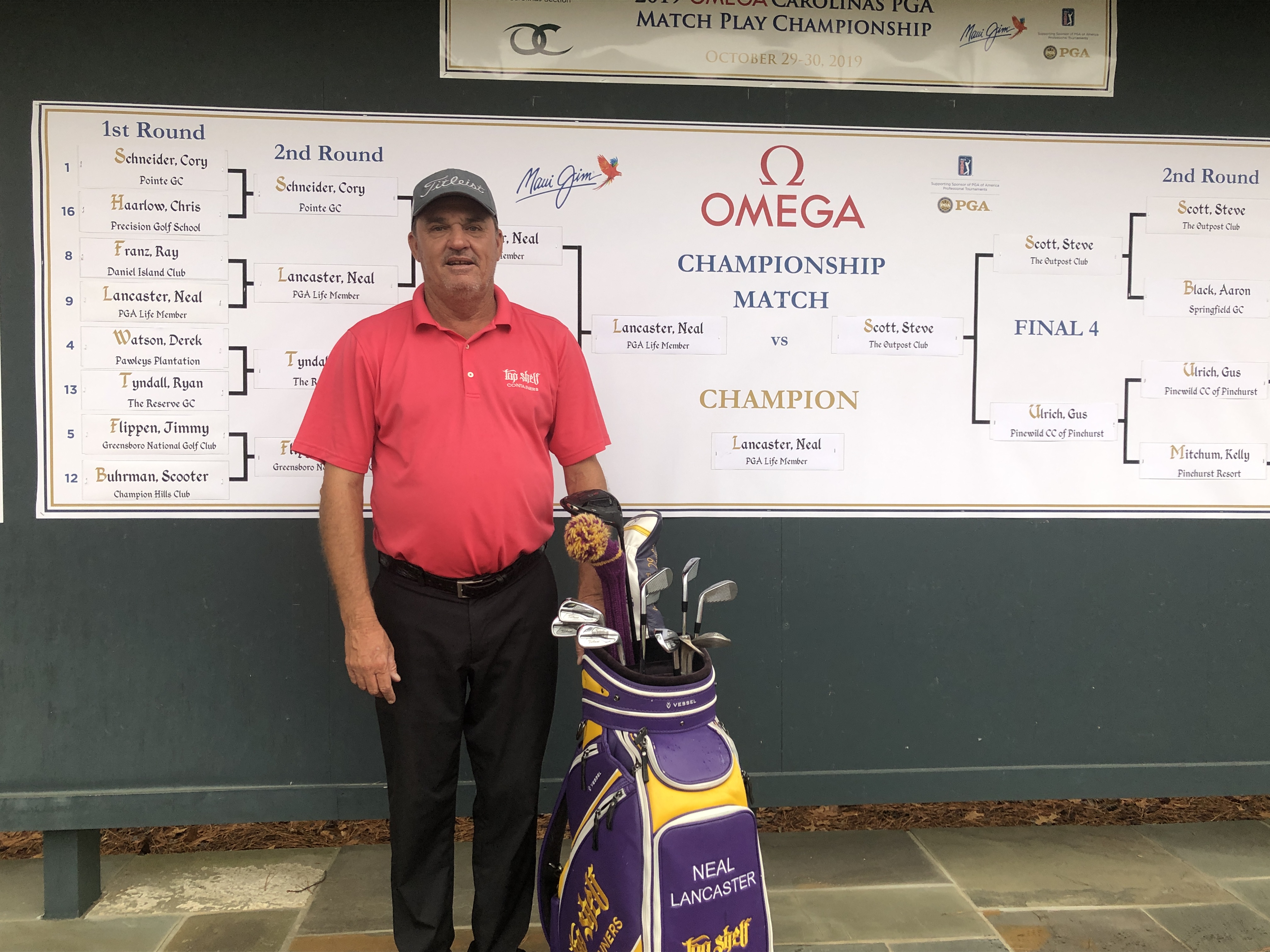 The semi-final matches consisted of PGA Professional Steve Scott of the Outpost Club (#2 seed) vs. PGA Professional Gus Ulrich of Pinewild Country Club (#14 seed), and PGA Professional Neal Lancaster (#9 seed) vs. PGA Professional Ryan Tyndall (#13 seed). Both matches were very close and came down to the 17th hole as Lancaster and Scott closed out their matches to make it to the finals.
The final match between Lancaster and Scott started with fireworks as both players made birdie on the first & second holes. On the third hole, Lancaster drained a 25-foot birdie putt while Scott barely missed a putt for birdie of about 10 feet. On the sixth hole par-5, Lancaster took a 2 up lead after hitting driver off the deck to set up a short, easy eagle chip and tap-in birdie. Both players made pars through the ninth hole, and then Lancaster took a 3 up lead on hole 10 when Scott missed a short par putt. Scott bounced back, though, and won holes 12 and 15 to cut his deficit to 1. On the eighteenth hole, Scott could have potentially extended the match when his chip for par struck the flagstick and nearly went in. Scott then conceded the hole and match to Lancaster.
Lancaster was able to overcome feeling under the weather this week and also a very wet morning as rain showers came through Durham for almost the entire morning of semi-final matches. Lancaster comes away with a $3,250 check for winning this championship. The top 16 players on the Carolinas PGA Bob Boyd Player of the Year Presented by OMEGA points list were invited to play in the event and all accepted.
The Carolinas PGA Section would like to thank the host facility, Old Chatham Golf Club, thier PGA General Manager John Marino, and the membership for their hospitality and support for this event.  The CPGA would also like to thank title sponsor Omega and supporting sponsors Maui Jim, and the PGA Tour.
About Old Chatham Golf Club
Old Chatham is a golf club, not a country club. Here golf is played on an 18-hole championship course set in 400 acres of protected woodlands – a rare sanctuary forever free of real estate development. Native forest separates the fairways, giving each group the feeling that it has the course all to itself. The golf course and grounds are maintained with an exceptional attention to detail and a seamless combination of both modern and traditional maintenance practices, giving one the sense that the golf course at Old Chatham has been quietly in existence for many years.
About OMEGA
From OMEGA's beginnings, our timepieces have recorded some of the most significant moments in the world (and beyond). They have been worn by presidents and kings, astronauts and spies, movie stars and you. Behind each one is a legacy of horological quality and innovation.
OMEGA is a partner of the PGA of America and each of the 41 Section's Player of the Year programs.
About Maui Jim
Maui Jim got its start in 1980 as a small company selling sunglasses on Ka'anapali beach in Lahaina, Maui. Seeing a need in the market for technology that could combat intense glare and harmful UV while bringing the brilliant colors of the island to life we engineered the revolutionary PolarizedPlus2® lens.
What began as our Classic Collection of seven styles, has evolved into over 125 styles of sunglasses, all of which are polarized and protect from 100% of UVA and UVB rays.
Our home office is located in Lahaina, Maui, and we still design and test all of our sunglasses there.
About the Carolinas PGA Section
Established in 1923, and recognized by The PGA of America in 1940, the Carolinas PGA Section of the Professional Golfers' Association has grown to be the largest of the PGA's forty-one sections with almost 2,000 professional members. The Carolinas PGA Section embraces North and South Carolina as well as a small portion of southern Virginia, representing more than 800 golf facilities. The Carolinas PGA is dedicated to nurturing and improving the quality of the game for the thousands of golfers using its member facilities. PGA professionals are responsible for conducting a variety of golf-related functions which include human resource management, golf shop merchandising, golf instruction, tournament operations, junior golf programs, growth of the game initiatives, golf club repair, administering the rules, public relations and much more. For additional information, contact Sally Morgan at Smorgan@pgahq.com