COVINGTON & PERKINS TAKE PRO-OFFICIAL TITLE (Pinehurst, NC) – The team of Seth Covington, PGA Associate Assistant Professional and Joey Perkins, Board Member at Pilot Knob Park CC are the 2020 Club Car CPGA Pro-Official Champions! The Championship took place at the beautiful Country Club of North Carolina's Dogwood Course. The day presented a morning of doubt with the impending weather, but Mother Nature was on golf's side today as the sun came out in the afternoon for a beautiful day! The format of the event consisted of a Carolinas PGA Professional teaming up with an official (Board Member, General Manager, President, etc.) from their club or facility and taking the net best ball of the two for each hole.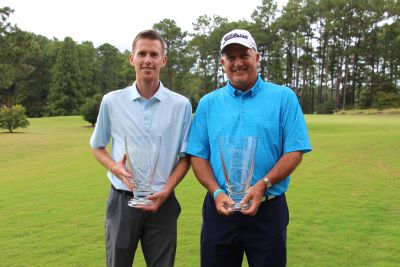 Seth Covington, PGA Associate (left) & Joey Perkins (right)
The field of 70 teams played hard, but most importantly had a fun time in this team format championship. Covington & Perkins posted a bogey-free, consistent pair of 32's, leading them to their winning score of 8-under-par. Finishing early in the day, their photo was taken as a "just in case" they still came out on top. "This is bad luck holding these trophies, but this does have a nice feeling to it! Hopefully we can stay on top!" said the winning team. And that they did.
Nearly missing the win by one shot but still playing incredibly consistent was Andy Gregory, PGA Director of Golf & Tim Driver, Golf/Greens Commissioner at The Club at 12 Oaks. Posting 7 birdies and remaining bogey-free, the pair was all smiles and pleased with their performance for the day.
Two shots back from the lead were three teams who tied at 6-under-par on this championship ready golf course. The team of Mike Abate, PGA and Chris Kruger had a couple shaky holes with three bogeys, but they made up for it with an eagle on the par-5 ninth hole, finishing at 66. Tied with them was the team of Chris Brown, PGA Director of Golf & Mark Stewart, Owner at Tobacco Road GC who posted a stellar number of seven birdies on the day. The third team coming in at the T-2 position was Ken Guilford, PGA Head Professional & Robbie Lewis, Board Member at Cabarrus CC who tied for the most number of birdies with eight, and finishing at 6-under-par.
The event featured several Section partners who supported the event with tee gifts and contests. Below are the winners of the chipping and skins contest during the round:
Club Car Chipping Contest
1st Place: Bucky Dudley & Shaun Kent (a) – $500.00
2nd Place: Kyle Simpson & Joe Sholar (a) – $400.00
3rd Place: Andrew Glover & Robby Bennett (a) – $300.00
4th Place: Frank Maynard & Greg Thoyre (a) – $200.00
5th Place: Larry George & Terry Tate (a) – $100.00
Global Golf Sales Skins Contest Hole #13
4 Teams Made Birdie
Larry George & Terry Tate (a) – $125.00
Jimmy McMullen & Don Rich (a) – $125.00
Carl Beaman, Jr & Jim Grady (a) – $125.00
David Fels & Jim Smith (a) – $125.00
Professionals receive half of team amount in check, amateurs in CCNC shop credit.
The Carolinas PGA would like to thank Jeff Dotston, PGA Director of Golf, his entire staff and membership of CCNC for opening up its doors to the event and for all their hard work to make this event great for the participants. The CPGA also thanks Title Partner Club Car and their team of Russ Lord, William Bradley, and Colleen Estes for coming out today. We also thank Supporting Partners Jani King, Straight Down and their rep Darin Little, Prize Possessions, and Global Golf Sales and their rep Jim Hollis.
TITLE PARTNER
Club Car – www.ClubCar.com.  Club Car is a longstanding partner of the CPGA Pro-Official Championship and other PGA Professional programs. Every detail of design, fabrication and assembly at Club Car is executed with an uncompromised desire for superior performance. Manufacturing quality products is paramount to our employees, and has been the driving force behind our company for over 50 years.
SUPPORTING PARTNERS
JaniKing – www.janiking.com.  Jani-King is the world's largest commercial cleaning franchise company with more than 120 support offices in 10 countries. Through a global network of over 9,000 franchisees, Jani-King delivers a superior commercial cleaning program to a wide range of customer locations including office buildings, hospitals, hotels, sporting venues, universities, restaurants, manufacturing facilities and more.
Straight Down – www.evolvegolf.com.  Founded in 1989, Straight Down is proud to be an American-owned company that sells quality golf, style, and active apparel. We appreciate your support and hope our products can help you enjoy life and the game we love.
Global Golf Sales – www.evolvegolf.com.  Founded in 1989, Straight Down is proud to be an American-owned company that sells quality golf, style, and active apparel. We appreciate your support and hope our products can help you enjoy life and the game we love.
Prize Possessions – www.prizepossessions.com.  Imagine holding that employee of the month award you received at your first job, your first Trophy or an exquisite monogrammed gift you received on your wedding day; all treasured memories.  We take pride in being able to play a part in creating those memories by custom personalizing those awards, gifts, recognition items and high end sporting trophies.
ABOUT THE COUNTRY CLUB OF NORTH CAROLINA
Since the opening of the Dogwood course in 1963, members and guests from all over the country have enjoyed the unique golf experience that CCNC provides. That experience is more than just the pleasure of playing an outstanding course in great condition. The natural beauty of the surroundings, the sense of playing through a quiet pine forest, the unhurried laid-back feel of the Club, and the warm hospitality of the members and staff all combine to make the golf experience one of the most memorable to be found anywhere.
ccofnc.com
ABOUT THE CAROLINAS PGA
Since its inception in 1923, the Carolinas PGA Section has been committed to nurturing and improving the quality of the game for the thousands of golfers using its member facilities.  Now the largest of the PGA's forty-one sections, the Carolinas PGA Section of the Professional Golfers' Association boasts over 2,000 professional members and represents more than 700 golf facilities within North and South Carolina as well as portions of southern Virginia.
PGA Professionals are responsible for conducting a variety of golf-related functions which include human resource management, golf shop merchandising, golf instruction, tournament operations, junior golf programs, growth of the game initiatives, golf club repair, administering the rules, public relations and much more.  For more information, contact Sally Morgan, Director of Marketing at 336-398-2742 or smorgan@pgahq.com .