Belair Goes Low to Capture Victory in the National Car Rental CPGA  Assistant Championship.
(North Myrtle Beach, SC) – In another picturesque day by the ocean, William Belair carded five birdies in route to a 36-hole total of 135 (-7), to win this year's National Car Rental CPGA  Assistant Championship.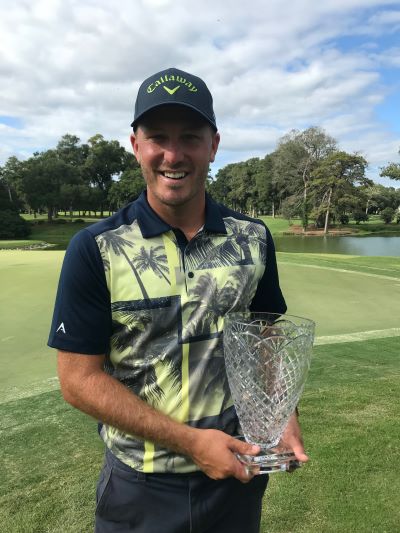 Belair credited his win to several factors, including maintaining good tempo throughout his swing and abiding by his caddy's suggestions during the round which allowed him lock-in mentally.
Six qualifiers and four alternates secured their spot into the National Car Rental Assistant PGA Professional Championship to be held November 14-17 in Port St. Lucie, FL at PGA Club's Wanamaker Course. Here's how things wrapped up today:
Qualifiers:
William Belair – 135 (-7)
Troy Spencer – 138 (-4)
Derek Watson, PGA – 139 (-3)
Josh Stockwell – 139 (-3)
Brad Luebchow – 139 (-3)
Tommy Gibson – 140 (-2)
Alternates:
Zachary Martin
Jackson Collier, PGA
Grant Smith
Joseph DeMaio
Tommy Gibson bested Zachary Martin with a birdie on the second playoff hole to capture the final qualifying spot. Notable rounds from today's action include Stuart Clark carding a 65 (-6), while Joseph DeMaio also fired a 67 (-4).
In our closest to the pin competition on hole #6, Rupe Taylor, PGA hit an iron to 5'1" to win a pair of sunglasses courtesy of supporting partner Oakley, Congratulations Rupe!
Surf Golf & Beach Club
Our course is Par 72, featuring greens renovated in 2016 by John Lafoy and converted from Bentgrass to Champion in 2016. It has 4 tee boxes with varying degrees of difficulty to offer golfers of all types an enjoyable and challenging experience. We also have a Pro Shop, featuring great logo apparel, supplies and equipment for your golf needs.
The challenging golf course is a George Cobb design. Utilizing 200 acres of gently contoured, varied terrain to top advantage, this 18-hole tract was crafted to complement its beautiful setting. The greens were previously renovated in 1992 by John Lafoy and converted to Bentgrass in 1996.
The layout of the course is designed to provide golfers of all types the opportunity to play well but be challenged in the process. The practice facilities include a driving range, short game area, and putting green. Our golf course received a 5 star rating from Trip Advisor for things to do in the greater Myrtle Beach Area.
A huge thank you to the staff at Surf Golf & Beach Club for your support, as this event wouldn't be possible without you!
Partners
Title Partner – National Car Rental
Supporting Partner – Srixon/Cleveland/XXIO
No matter your skill level, we want to fit you into golf clubs that are perfect your game and will help you shoot lower scores every time you tee it up. We provide a comprehensive, accurate fit for every player with our new Fitting System, which includes the most advanced Wedge Fitting in the industry. Find out how many strokes you can save today. http://www.clevelandgolf.com/
Supporting Partner – Kirk & Matz Fine Awards & Gifts
We proudly offer you the world's finest Event and Presentation Awards to meet any of your organization's reward and recognition needs. With three generations of our family serving you, we've been trustworthy since 1946, and we stand behind our reputation for being the people you can always rely on! Bring us your unique need or unusual award requests-we pride ourselves in being the team that is most resourceful in our industry and we will meet and exceed your expectations with pride. Our products span every need you may have for recognition, from the finest, most elite trophies available through affordable, quality team awards. Our craftsmen custom prepare your awards and we provide high-quality engraving and imprints using your specified brand on the items you order. http://www.kirk-matz.com/
Supporting Partner – Oakley
Oakley, Inc. is a sport and lifestyle brand, driven to ignite the imagination through the fusion of art and science. Building on its legacy of innovative, market-leading optical technology, the company manufactures and distributes high performance sunglasses, prescription lenses and frames, goggles, apparel, footwear, and accessories. The essence of the brand is communicated through hundreds of professional and amateur athletes who depend on Oakley products to provide them with the very best while they redefine what is physically possible.  http://www.oakley.com/
Other Supporting Partners – Golf Advisor, PGA TOUR, and John Deere
About Carolinas PGA
Since its inception in 1923, the Carolinas PGA Section has been committed to nurturing and improving the quality of the game for the thousands of golfers using its member facilities.  Now the largest of the PGA's forty-one sections, the Carolinas PGA Section of the Professional Golfers' Association boasts over 2,000 professional members and represents more than 650 golf facilities within North and South Carolina as well as portions of southern Virginia.
PGA professionals are responsible for conducting a variety of golf-related functions which include human resource management, golf shop merchandising, golf instruction, tournament operations, junior golf programs, growth of the game initiatives, golf club repair, administering the rules, public relations and much more.  For more information, contact Sally Morgan, PGA, Director of Marketing at 336-398-2675 or smorgan@pgahq.com.