WATSON & LIM LEAD THEIR TEAMS TO A WIN
(Cherokee, NC) – The North Carolina mountains provided a beautiful couple of days for the 2019 Harrah's Cherokee Casino Resort Pro-Am. This year, the Carolinas PGA expanded the event to host players on two courses, adding Balsam Mountain Preserve to the portfolio of Sequoyah National Golf Club. The format for this event is two rounds of one gross, one net (handicap) scoring where amateurs received 75% of their course handicap. Each grouping of teams will compete in two separate pro-am competitions.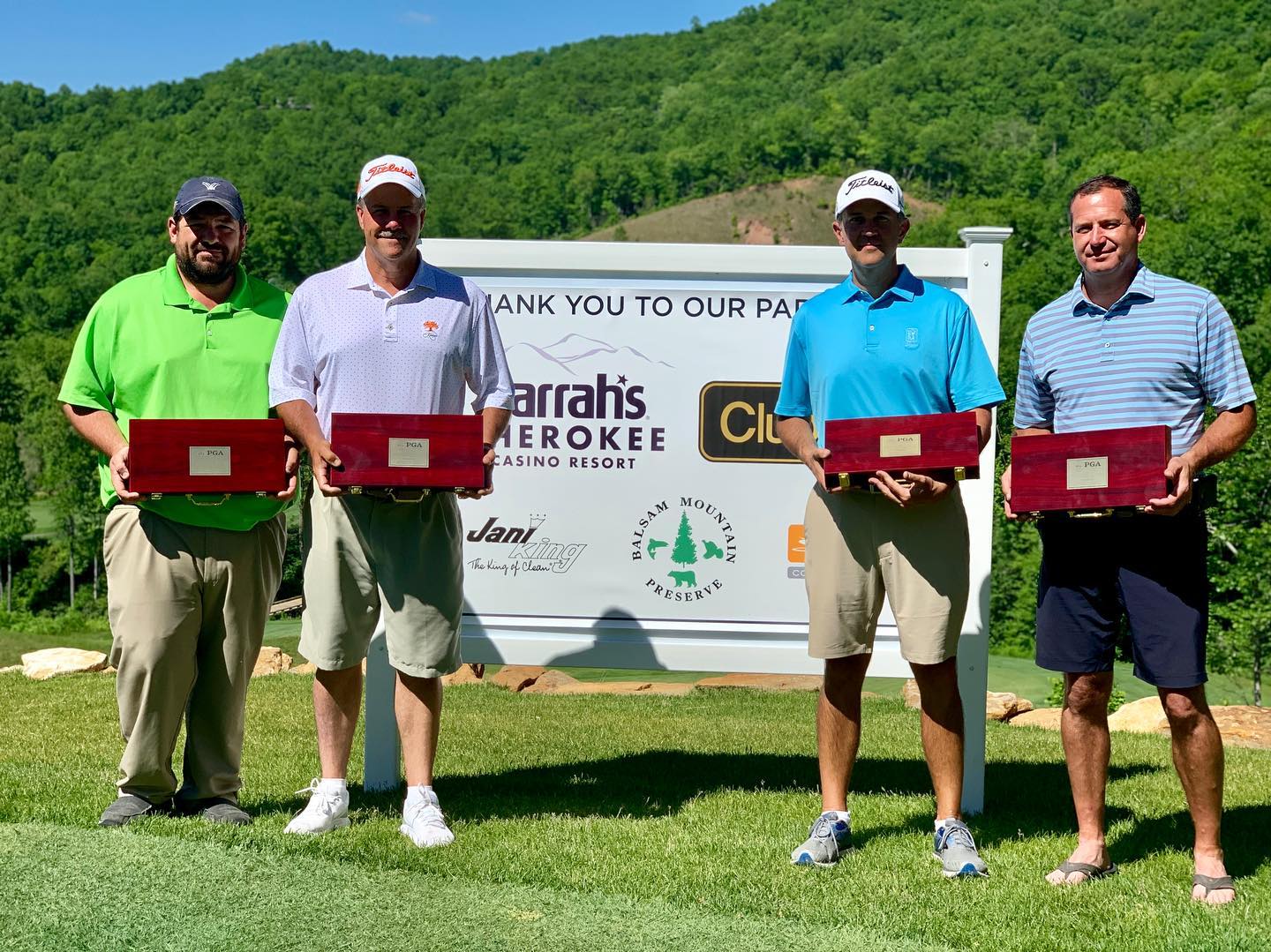 Winning Team: Derek Watson, PGA with Ken Rosefield, Todd Kirkley, & Chris Kirlis
Playing at Balsam Mountain today, the team of Derek Watson, PGA, with Ken Rosefield, Todd Kirkley, & Kirlis Chris held on to their lead with the Sequoyah/Balsam rotation grouping, finishing at 22-under par winning their group competition. Nick Jacobi, PGA, with his team of Gary Parks, Rick Miller, & Marc Sansone held their place towards the top of the leaderboard only finishing one shot back from the Watson team at 21-under par. Rounding out the top three was Jason Cherry, PGA, with Anthony Cucco, Nick Picerno, & Mark McNiff finishing at 19-under.
Those that played at Balsam Mountain yesterday tackled Sequoyah National today. The top two teams held strong in their lead, finishing tied at the end of the day at 22-under par, two shots ahead of the rest of the field. The team of Young Lim, PGA, Riley Worple, Steve King, & Mark Giles beat the team of Carr Crowe, PGA with Curt Wildcatt, Tommy Bradley, & Jack Davis in a chip off to win the Balsam/Sequoyah grouping title. Coming in third in this grouping was the group of Eddie Cochrane, PGA, with Will Coker, Mike Chemell, & Phil Gramling who shot 12-under on the day, finishing at 20-under. Great playing by all teams!

Nick Jacobi – Low Professional (70-70=140 (-2))
The PGA Professional individual competition consists of all professionals at both courses. Nick Jacobi of Monroe CC played hard today at Balsam Mountain to claim this title, carding an even-par 70 to finish at 2-under for the event. Derek Watson of Pawleys Plantation remained towards the top, as well, finishing at even-par. Ryan Tyndall of The Reserve GC tied with defending champion, Mike Lawrence of Boscobel Golf & CC and Ray Franz of Daniel Island Club, who carded a 2-under in today's round to finish at 1-over par.
This event would not have been possible without the support from our generous partners for the couple of days who also were able to enjoy playing. The teams at Balsam Mountain and Sequoyah National were a tremendous help in organizing the event and proving incredible hospitality for our players and staff.
Balsam Mountain Staff – Phil Satterfield & Travis Wilson, PGA
Thanks to the support of our sponsors Harrah's Cherokee Casino Resort, Club Car, Cobra Puma Golf, and Jani King, competitors were able to enjoy a great couple days of golf, dining, and gambling. We were also happy to have Grannie's Kitchen, a local restaurant, serve lunch for competitors at Sequoyah National GC.