Carolinas PGA Announces 2017 Section Award Winners
PGA Professionals Recognized for Commitments and Contributions to Golf
Greensboro, N.C. (November 27, 2017) – The Carolinas PGA is thrilled to announce the winners of this year's Section Awards and Honors, distributed annually by the Carolinas PGA Section, as selected by the Special Awards Committee, to the ten deserving Carolinas PGA Professionals. The mission of the Carolinas PGA Special Awards Committee is to recognize the most eligible winners in each of the annually awarded categories, which is accomplished by an enthusiastic commitment from each committee member afforded the responsibility of identifying his or her peers as exceptional.
The following Carolinas PGA Professionals display excellence in their profession, assume an ongoing commitment and devotion to progressing the game of golf and to preserving the integrity of the industry:

Golf Professional of the Year: Jeff Dotson, PGA
(The Country Club of North Carolina)
Jeff Dotson, Director of Golf at The Country Club of North Carolina in Pinehurst, receives the highest annual honor awarded to a PGA Professional. This title is bestowed once per lifetime to the individual who demonstrates exceptional performance as a Golf Professional at his or her facility, a high level of service to the PGA Section and community, strong leadership, a positive image, has the ability to inspire fellow professionals, and promotes the game of golf. After three years at the Dunes Golf & Beach Club, Jeff returned to CCNC to fill the shoes of retiring CPGA Hall of Fame member Buck Adams. Jeff served as Head Golf Professional from 1991-2001 until he was promoted to Director of Golf – a role which he still enjoys today. In his 32 years as a PGA Professional, he has hired more than 30 assistant professionals and many more interns from eight PGM universities and has seen over a dozen former assistants, advance to the highest ranks at their facilities. His contributions to the golf industry, his facility, and the community have afforded him the opportunity to consistently assist others in their careers and set the highest standards of personal and professional integrity. His dedication also earned him the CPGA 2014 Private Merchandiser of the Year and the 2016 Bill Strausbaugh Awards. Jeff Dotson has been a CPGA Member since 1985.

Palmer Maples Teacher of the Year: Doug Weaver, PGA
(Palmetto Dunes Resort)
Doug Weaver, Director of Instruction at Palmetto Dunes Resort in Hilton Head, SC, receives the Palmer Maples Teacher of the Year Award for his outstanding service as a golf instructor. Doug has made numerous contributions to golf instruction within the Section for many years. He hosts private and group lessons, conducts weekly clinics, volunteers some of his time to free lessons for people of all ages, hosts Mental Golf Workshops, instructs lessons for young children while using songs to help them remember how to play, captains a PGA Jr. League Team, assists with Special Olympics programming, regularly writes articles for newspapers and magazines, and is the Hilton Head High School golf team's Assistant Coach. Doug, a PGA Member since 1986, has instructed outstanding golfers like Luke Carpenter (Adams Tour Member), Evan Muscari (won West Virginia US Open Qualifying and college golfer at Concord College), and Freddy Reyes (a Drive, Chip, and Putt finalist at Augusta National). Additionally, Doug was a member of the PGA President's Council from 2005-2010 and has received numerous awards and recognitions including the: 2012 Hilton Head Island Chapter Teacher of the Year Award, the 2002 Growth of the Game Award from the Linda Bennington PGA Foundation, and induction into the Lowcountry Golf Hall of Fame.

Horton Smith Award: James Hackenberg, PGA
(Jimmy Hack Golf, LLC)
Jim Hackenberg, Golf Manufacturer at Jimmy Hack Golf LLC, receives the Horton Smith Award for his outstanding contributions to developing and improving educational opportunities for the PGA Golf Professional at his facility and beyond. Jim has designed several training aids including the Orange Whip Trainer, all designed around his own teaching program to emphasize proper sequencing, tempo, timing, and balance. Jim has traveled throughout the United States and other countries to demonstrate his concepts and share them with PGA Professionals, coaches, and teachers. Jim has conducted training at numerous PGA of America Section events, teaching summits, and to specialty groups. Jim has supported and sponsored twenty-seven different PGA Sections over the last ten years and hopes to participate with the remaining fourteen over time. Jim has written articles for Golf Tips Magazine, PGA Magazine, and PGA Education-PGA Best Practices. He is active in distributing his message on social media platforms offering many drills for students and teachers alike to improve their game and instruction. Jim Hackenberg has been a CPGA Member since 2008.

Bill Strausbaugh Award: Andrew Shuck, PGA
(Charlotte Country Club)
Andrew Shuck, Head Professional at Charlotte Country Club, receives the Bill Strausbaugh Award for making significant contributions through his ongoing mentoring of PGA Professionals and impacts made to their careers. Andrew had the distinct fortune to start his career working under this award's namesake, Bill Strausbaugh at Columbia Country Club in Chevy Chase, Maryland in 1995. Andrew credits Strausbaugh for giving him the vision and passion to help other professionals advance their careers. In fifteen years as a head professional, Andrew has helped twelve assistant professionals that worked for him to become head professionals at other facilities. Andrew considers mentoring other professionals to be the most gratifying and favorite aspect of his career as a PGA Professional. Andrew has served on the board of the First Tee of Greater Charlotte since 2012, he is the first Methodist University PGM graduate to serve on the Methodist University Board of Trustees, and he also currently serves as an At-Large Director for the CPGA Board. Andrew Shuck has been a CPGA Member since 2011.

Player Development Award: Jeff Shores, PGA
(Golf Squad LLC)
Jeff Shores, Executive Director of Golf Squad based in Huntersville, NC, receives the Player Development Award for his contributions and achievements in the area of Player Development. Jeff founded Golf Squad In 2011 after being inspired by a PGA Seminar on Growth of the Game. He wrote a series of instructional handbooks covering etiquette, rules, history, vocabulary, and swinging a golf club all designed to educate participants on the process of becoming a golfer. Jeff started Golf Squad as a small, local, after school program, and has grown it into a widespread national business. Through Jeff's Golf Squad programming he has contracted instructional services from hundreds of PGA Members and Apprentices. Golf Squad provides training, curriculum, and resources for PGA Members to connect with their communities, primarily through teaching the game at local schools and some corporate programs. Jeff Shores has been a CPGA Member since 2004.

Youth Player Development Award: Tom Mason, PGA
(Par Tee Golf Center)
Tom Mason, Head Professional at Par Tee Golf Center in Columbia, SC and Head Golf Coach of Columbia College, receives the Youth Player Development Award for being a leader in junior golf and reflecting the qualities and ideals of those who work with our nation's youth. Tom has worked with juniors at the Par Tee Golf Center through PGA Jr. League and hosting Drive Chip and Putt qualifiers. He also hosts an Annual Youth and Family Golf Summit and gives numerous individual lessons and group clinics. Tom has been a PGA Jr. League Captain since 2013 and has brought a team to the Southeast Regional finals every year since he started. Tom's 2015
team was the first in the Carolinas Section to advance to the National Finals which was held at Disney World in Orlando, Florida that year. He now has his own league and oversees four teams. Tom was part of the CBS Special "Golf's Best Stories End in Thanks" which highlighted Tom and one of his students, PGA Junior League player, Jalen Castle. The show tells Jalen's story of surviving a complicated spinal surgery and recovering to play golf at a very high level. Jalen acknowledged Tom in the "Thanks PGA Pro" campaign which helped bring her story to national attention. Tom has served as the President (2007-2015), Vice President (2005-2006), and Tournament Chairman (2001-2004) of the South Carolina Chapter of the CPGA. He is currently serving as the Area II Director for the CPGA, as Chairman of the CPGA's Youth Player Development Committee, and is a member of the CPGA's Employment Committee. His dedication to his facility and beyond earned him the 2012 CPGA Horton Smith Award, the 2011 South Carolina Golf Course Owner's Association-Employee of the Year Award, and the 2005 Columbia City Golf Tournament-Service to Golf Award. Tom Mason has been a CPGA Member since 1996.

Merchandisers of the Year (Private, Public, Resort)
This award recognizes PGA Professionals who demonstrate superior skills as merchandisers in the promotion of golf. This honor is awarded in three categories (Private, Public and Resort). PGA members considered are those with outstanding results as far as merchandising techniques, shop operations, philosophies, innovations and performance (profit, margin, turn rate, cost of goods, sales).

Private: Brian Joyce, PGA
(Eagle Point Golf Club)
Brian Joyce, Head Professional at Eagle Point Golf Club in Wilmington, NC, receives the Merchandiser of the Year Award in the Private category. Brian's merchandising philosophy is to "keep the members and their guests at the top of the priority list by ensuring attentive and professional service in a well-organized shop with top quality merchandise." Eagle Point hosted the 2017 Wells Fargo Championship, giving Brian and the Eagle Point staff a unique opportunity in merchandising for a PGA Tour event. Eagle Point exceeded their expectations in sales for the year and for the tournament while generating exceptional shop statistics. Brian Joyce has been a CPGA Member since 2010.

Public: Matt Daly, PGA
(Tournament Player Club of Myrtle Beach)
Matt Daly, Head Professional at TPC Myrtle Beach, receives the Merchandiser of the Year Award in the Public category. Matt's merchandising philosophy has evolved throughout his career and he credits his mentors and experience while working at great golf facilities during his career. Matt credits the staff at TPC Myrtle Beach along with the support of the Retail Team at Founders Group International for the success of their shop. Matt has led his team to maintain a well-organized and continually updated golf shop while generating excellent margins and shop statistics. Matt Daly has been a CPGA Member since 2006.

Resort: Erika Mason, PGA
(Old Edwards Club)
Erika Mason, Head Professional at Old Edwards Club in Cashiers, NC, receives the Merchandiser of the Year Award in the Resort category. Erika's merchandising philosophy focuses on the four P's: Product, Price, Presentation, and People. Erika's vision is to find the right products, for the right people, sold at the right price, and presented in a visually stimulating way. Erika helped Old Edwards to reach goals and maintain excellent shop statistics while growing their business in 2017. Erika Mason has been with the CPGA as an apprentice since 2011 and became a PGA member in January of 2017.

Assistant Golf Professional of the Year: Elliott Jones, PGA (Myers Park Country Club)
Elliott Jones, Assistant Golf Professional at Myers Park Country Club in Charlotte, NC, receives the Assistant Professional of the Year Award for demonstrating a high level of excellence at his facility and the Section. Elliott started as an apprentice in the section at Colonial Charters Golf Club in 2010 and has been at Myers Park since 2013. Elliott is the current Vice President of the CPGA's Assistants' Association where he has helped to develop and promote interactive educational opportunities as well as helping to create new tournament formats. He recently accepted the offer to serve on the CPGA Apprentice Education Committee and will begin in 2018. Elliott was a three-year member of the Men's Golf Team at Eastern Carolina University. He is devoted to playing competitively and he participates in a full schedule of Assistants' Association events along with most of the CPGA's major tournaments. He also makes an effort to play once a week with different members at Myers Park to further his relationships with them on a more personal level. Elliott Jones has been a CPGA Member since 2016.
Each award winning PGA Professional will be recognized at the 25th Annual Special Awards and Honors Ceremony on February 18, 2018 at Greensboro Country Club. For more information, please visit www.carolinas.pga.com or contact the Section directly.

About the Carolinas PGA Section Established in 1923, the Carolinas PGA Section of the Professional Golfers' Association has grown to be the largest of the PGA's forty-one sections with almost 2,000 professional members. The Carolinas PGA Section embraces North and South Carolina, as well as a small portion of southern Virginia, with more than 800 golf facilities. The Carolinas PGA is dedicated to nurturing and improving the quality of the game for the thousands of golfers using its member facilities. PGA professionals are responsible for conducting a variety of golf-related functions, which include human resource management, golf shop merchandising, golf instruction, tournament operations, junior golf programs, growth of the game initiatives, golf club repair, administering the rules, public relations and much more. For more information, please visit www.carolinas.pga.com. You can also find the Carolinas PGA on Facebook, Twitter, Instagram and YouTube.
Media Contact: Kurt Battenberg, PGA, 336-398-2742, kbattenberg@pgahq.com
Abrams & Skirpstas Win E-Z-GO / AHEAD CPGA Pro-Pro Championship
Pres. by Global Golf Sales, Stitch Golf, & Tifosi Optics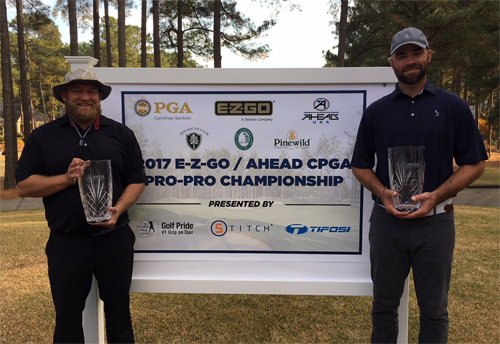 L-R: Champions Holden Abrams, PGA & Peter Skirpstas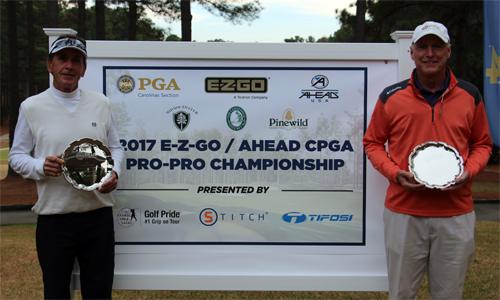 L-R: Senior contest winners Mike Lawrence, PGA & Joey Herbert, PGA
(Pinehurst, NC) - Holden Abrams, PGA, and Peter Skirpstas of Jacksonville Country Club in Jacksonville, NC earned victory in the 2017 E-Z-GO / AHEAD Carolinas PGA Pro-Pro Championship Presented by Global Golf Sales, Tifosi Optics, & Stitch Golf held in historic Pinehurst, NC.

Abrams, the club's PGA Head Professional, and Skirpstas, an Apprentice PGA Assistant Professional, posted impressive rounds of 67-60-60 = 187 (-28) to win by two strokes over the team of Gus Ulrich, PGA, from Pinewild CC of Pinehurst and Kelly Mitchum, PGA, from Pinehurst Resort & CC, who carded rounds of 65-59-65 = 189 (-26). Complete results are available online.

Three formats were used for the 54-hole championship on three courses each day.
- Mid South Club / www.talamoregolfresort.com/resort-golf/mid-south / Modified Alternate Shot
- Pinehurst CC No. 8 / www.pinehurst.com / Four-Ball Stroke Play (better ball)
- Pinewild CC of Pinehurst (Holly) / www.pinewildcc.com / Captain's Choice

In the senior contest, there was a three-way tie for first after regulation at 198 (-17). PGA Life Members Joey Herbert (Pendleton, SC) & Mike Lawrence (Anderson, SC) emerged from a playoff over two teams: PGA Life Members Ed Sabo (Pinehurst, NC) & Donald Padgett II (Pinehurst, NC) and Karl Kimball, the PGA Director of Golf at Hillandale GC in Durham, NC & PGA Life Member Ron Schmid (Greensboro, NC). Sabo & Padgett were eliminated on the first playoff hole. Kimball & Schmid hung in until the fourth playoff hole where Herbert stuck an approach shot tight to the hole and converted the birdie for the win. Complete results are available online.

In addition to three days of competition, the field enjoyed two social functions and a nighttime putting contest on Pinehurst Resort & CC's renovated Thistle Dhu putting course. On the afternoon prior to the tournament, Global Golf Sales conducted its season-ending Par-3 Challenge on Pinewild CC of Pinehurst's par-3 Azalea course. The majority of the field qualified through meeting/education attendance, volunteering, growth of the game activities, committee involvement, and tournament participation. The purse was $10,000 with $9,000 being dedicated to skins on each hole with no carryovers. Results can be found here.

Photographs of the week are available on Facebook.
The CPGA sincerely thanks its title partners E-Z-GO and AHEAD for their continued support of the Pro-Pro Championship.
- E-Z-GO – www.ezgo.com
- AHEAD – www.aheadweb.com

We of course also thank our three presenting partners.
- Global Golf Sales – www.globalgolfsales.com
- Stitch Golf – www.stitchgolf.com
- Tifosi Optics – www.tifosioptics.com

A number of supporting partners also contributed.
- Evolve Golf – www.evolvegolf.com
- Hole-in-One U.S.A. - www.hiousa.com
- ProGolfWeather – www.progolfweather.com
- Source4 - www.source4.logomall.com
- Merchant Services, Ltd. - www.merchantservicesltd.com
PGA Jr. League National Championship Recap
2018 PGA Jr. League Captain Registration Opens November 27th
The 6th PGA Jr. League Championship presented by National Car Rental showcased some amazing golf, as Georgia (Duluth) took an early 3 ½ to ½ lead through the first three holes and then held on tight, as New Jersey (Hillsborough) rallied back into serious contention.

This is the second title for a Georgia-based team (Atlanta in 2013).

With the final group watching from the tee on the ninth and final hole played (par 5, 465-yard Hole No. 18), the Georgia team of William Love, 14; Harris Barth, 13; and Strug's nephew Lucas Jinglov, 13, earned a conceded birdie to seal a half-point, and clinch the match. Moments later, their Georgia teammates rushed the green, realizing they had secured a hard-fought national title.

"It was really fun," said Jinglov. "The way we've been treated and everything that's been done for us... It's been a great experience overall."

The Georgia team was on the green in two, before Barth and Love both missed their eagle putt, leaving a short putt for the Championship. Showing tremendous sportsmanship, the New Jersey team of Katie Li, 12; Megan Meng, 11; and Adrian Jordan, 11, conceded the match.

"It means a lot to the team," said Team Georgia Captain Patrick McCrary, a PGA Professional at TPC Sugarloaf near Atlanta. "They worked hard to get here, and it's been a long road. We couldn't be more happy for these kids."

The co-ed New Jersey trio simply played lights out golf to get New Jersey back into the match, with three straight birdies on the third, fourth and fifth holes played (Nos. 12, 13, 14). They equaled Georgia shot-for-shot from there on out.

Li made an electric 60-foot putt on No. 13 to match birdies with Georgia on the hole and put the entire tournament on its ear.

New Jersey got its first spark from the duo of Garrett Engle, 14, and Logan Paczewski, 13, who struck three birdies in a row to close out their match and capture a critical turnaround point.

"Signature for Team New Jersey—we dug a deep hole, scrapped out and fell short," said New Jersey Captain Anthony Latham, PGA. "They played hard, and I couldn't ask for anything more. They never quit."

The group behind them put on yet another show. New Jersey's Joshua Ryan, who earlier in the week won the PGA Jr. League Championship presented by National Car Rental long-drive championship with a massive drive of 312 yards, made dramatic shot after dramatic shot.

On the sixth hole played (par 4, 378-yard Hole No. 15), Ryan and Georgia's Ethan Gao showed why they were playing on the anchor leg, as they matched birdies, with mouth-dropping shots to the green – Ryan's from approximately 180-yards out to within three-feet; and Gao's from under the green and over the bunker from 70-yards away to 12 feet from glory.

The dual birdies prevented Georgia from clinching early and extended the match to the final hole.

In the third place match, Team Ohio (Columbia Station) defeated Team Texas (Houston) 7 ½-4 ½. Team California (San Jose) took fifth place over Team Arkansas (Little Rock) 7-5. Team Illinois (Chicago) won the seventh place match over Team New Hampshire (Atkinson) 7-5.

The 80 boys and girls competing comprise eight Regional Champion teams from a record 42,000 kids who played in PGA Jr. League during 2017.

"There are so many sports that are more individually-focused, and it's nice when there's a team component particularly when you're young," said Strug from the gallery. "I think it's good to have that ownership but understand the team component, too."

The two teams in the Championship match appeared to be on a collision course to the finals all weekend of pool play, as both Georgia and New Jersey went undefeated, 3-0, in the Wanamaker and Ryder Divisions, respectively—and in impressive fashion. Georgia tallied a total of 29.5 of a possible 36 points in round-robin division play, while New Jersey amassed a stout 25.5 points.

Golf Channel To Air Championship Telecast Dec. 5
For the second consecutive year, PGA of America, Grayhawk Golf Club and National Car Rental have partnered with Golf Channel to air a two-hour, primetime special highlighting the 2017 PGA Jr. League Championship presented by National Car Rental. The special will air Dec. 5 (Tuesday) at 8 p.m. ET/5 p.m. PT, with a rebroadcast at 12:30 a.m. ET/9:30 p.m. PT. An encore airing will also air on Dec. 15 at Noon ET/9 a.m. PT.

Champions
2017: Georgia (Duluth); 7 to 5; Grayhawk Golf Club (Scottsdale, Ariz.)
2016: California (Livermore); 8 to 4; Grayhawk Golf Club (Scottsdale, Ariz.)
2015: California (San Diego); Playoff (1st hole); Disney's Palm Course (Lake Buena Vista, Fla.)
2014: California (San Ramon); 7 to 5; TPC Sugarloaf (Duluth, Ga.)
2013: Georgia (Atlanta); 6 ½ to 5 ½; TPC Sugarloaf (Duluth, Ga.)
2012: California (San Francisco); 8 ½ to 3 ½; Cog Hill Golf & Country Club (Lemont, Ill.)

Ryder Division
New Jersey (Hillsborough): 3-0-0, 25.5 points*
Texas (Houston): 1-1-1, 17.5 points
Arkansas (Little Rock): 1-1-1, 16 points
Illinois (Chicago): 0-3-0, 13 points

Wanamaker Division
Georgia (Duluth): 3-0-0, 29.5 points**
Ohio (Columbia Station): 1-2-0, 15 points
California (San Jose): 1-2-0, 14 points
New Hampshire (Atkinson): 1-2-0, 13.5 points

**Won Championship
*Won Division Title