Brad Luebchow claims 2018 Nat'l Car Rental Assistant PGA Professional Championship
September 11, 2018
(Greensboro, NC) – The 2018 National Car Rental Carolinas Assistant PGA Professional Championship is complete. We lucked out with a sunny day at Starmount Forest CC and many good rounds. All players were vying for one of the six qualifying spots for the 42nd National Car Rental Assistant PGA Professional Championship, to be held November 15-18 at PGA Golf Club's Wannamaker Course in Port St. Lucie, Florida.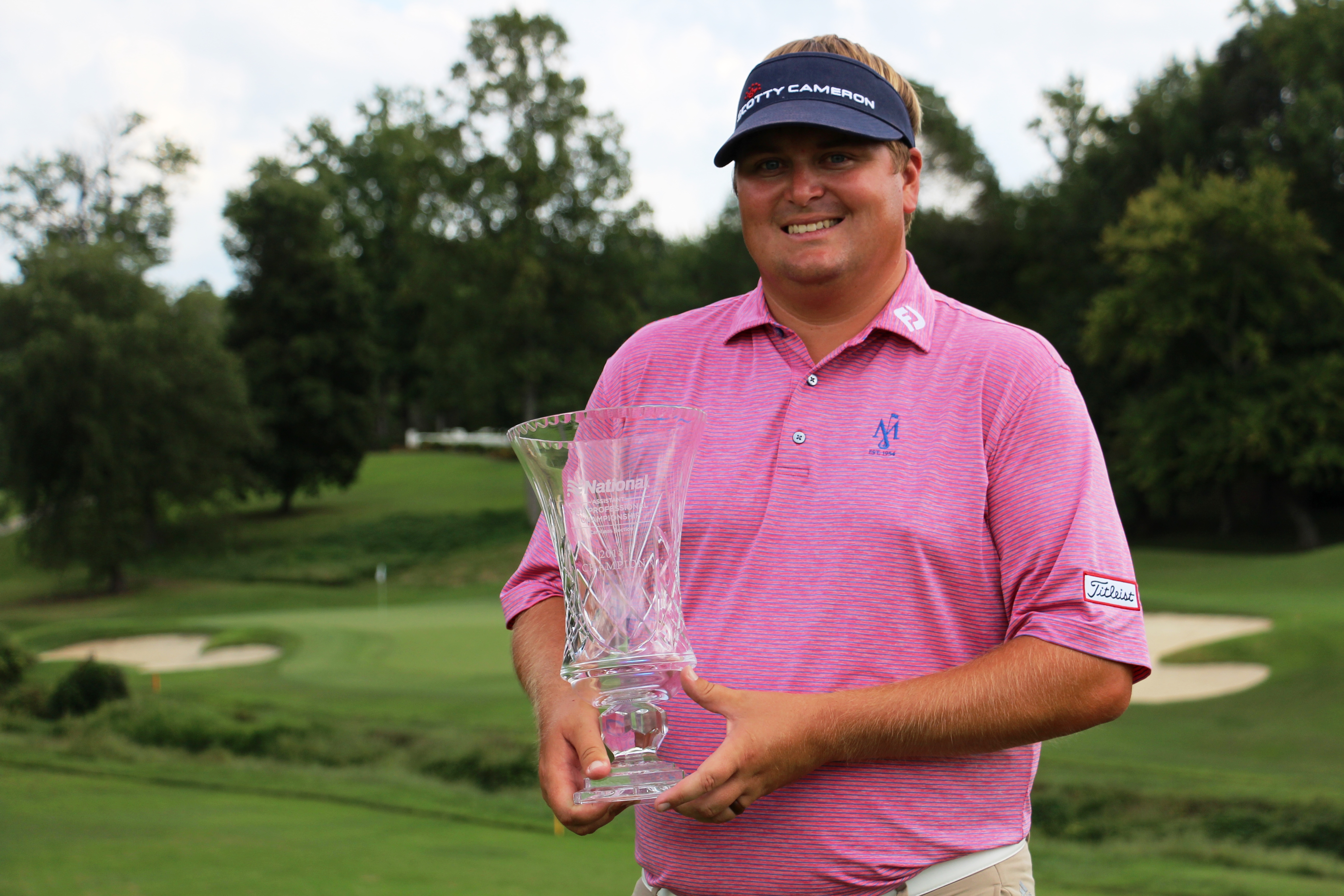 Dominating the course today and winning this year's championship was Brad Luebchow, Assistant Professional at Maple Chase G&CC. Luebchow played this course with finesse as he carded a 7 birdie, bogey-free, round of 64. This catapulted him three shots ahead of anyone else in the field, at 9-under par for the 36-hole event. "It was a good break to play with the leader and see what he was doing. He played great and I just tried to stay focused on what I needed to do to catch him," said Luebchow, when reflecting on his mindset for the day. "I birdied four of the last six holes. Fortunately, a lot of putts went in…the putter got hot!" Full of smiles, Luebchow reflects on the final stretch of holes: "I was feeling a little extra excited so I was trying to breathe and make sure I kept myself calmed down."
Coming in second place with another bogey-free, under-par round today is Tommy Gibson, from Old Town Club, who shot 4-under, putting him at 6-under par for the event. Two players finished tied for the third spot, one shot back from Gibson. Grant Lancaster, from Kilmarlic GC, and Drew Bateman, from Diamond Creek GC, shot 5-under to secure their spots in the National Championship in November with Luebchow and Gibson. Bateman finished his round today with five straight birdies, not backing down from the high level of competition. Rounding out the two remaining qualifying spots is Christopher Finke, from CC of Asheville, who won our first playoff hole, and Ray Franz, from Daniel Island Club, winning on the fifth playoff hole.
Congratulations, again, to our champion and our six qualifiers! When Luebchow was asked if he was excited about his win: "You think?! My goodness! I'm so stoked! This is validation of a lot of hard work and practice. I'm very fortunate."
For the second day in a row, thanks to our supporting partners, Kirk & Matz and Oakley, we are able to host two closest-to-the-hole competitions on hole #3 and #17, respectively. Winning the second round $100 from Kirk & Matz is Adam Stevenson, from Treyburn CC, who nearly made a hole-in-one, hitting it to 8" on the par-three, #3. Evan Hyma, from Diamond Creek GC, hit his shot on #17 to 2'6" to win a pair of sunglasses from Oakley. Great shots to Adam and Evan!
There were two skins won during this event. Congratulations to Spencer Lawson for his eagle on the par-four, #9, and Peter Skirpstas for his eagle on the par-five, #14!
The 2018 Carolinas Assistant PGA Professional Championship is a Golf Max CPGA Assistants' Association Player of the Year points event.
View full results here >>>>
View photos from the event here >>>>