Abrams & Skirpstas Win E-Z-GO / AHEAD CPGA Pro-Pro Championship
Pres. by Global Golf Sales, Stitch Golf, & Tifosi Optics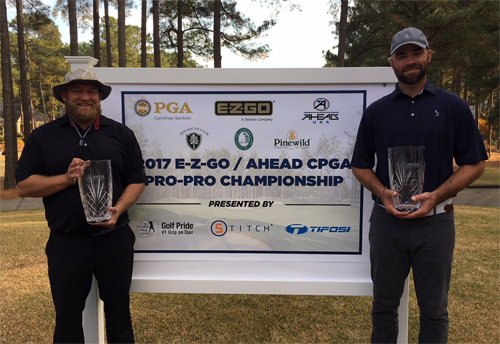 L-R: Champions Holden Abrams, PGA & Peter Skirpstas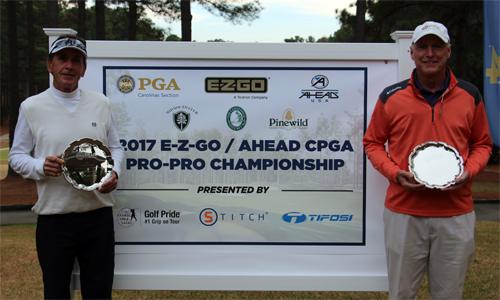 L-R: Senior contest winners Mike Lawrence, PGA & Joey Herbert, PGA
(Pinehurst, NC) - Holden Abrams, PGA, and Peter Skirpstas of Jacksonville Country Club in Jacksonville, NC earned victory in the 2017 E-Z-GO / AHEAD Carolinas PGA Pro-Pro Championship Presented by Global Golf Sales, Tifosi Optics, & Stitch Golf held in historic Pinehurst, NC.

Abrams, the club's PGA Head Professional, and Skirpstas, an Apprentice PGA Assistant Professional, posted impressive rounds of 67-60-60 = 187 (-28) to win by two strokes over the team of Gus Ulrich, PGA, from Pinewild CC of Pinehurst and Kelly Mitchum, PGA, from Pinehurst Resort & CC, who carded rounds of 65-59-65 = 189 (-26). Complete results are available online.

Three formats were used for the 54-hole championship on three courses each day.
- Mid South Club / www.talamoregolfresort.com/resort-golf/mid-south / Modified Alternate Shot
- Pinehurst CC No. 8 / www.pinehurst.com / Four-Ball Stroke Play (better ball)
- Pinewild CC of Pinehurst (Holly) / www.pinewildcc.com / Captain's Choice

In the senior contest, there was a three-way tie for first after regulation at 198 (-17). PGA Life Members Joey Herbert (Pendleton, SC) & Mike Lawrence (Anderson, SC) emerged from a playoff over two teams: PGA Life Members Ed Sabo (Pinehurst, NC) & Donald Padgett II (Pinehurst, NC) and Karl Kimball, the PGA Director of Golf at Hillandale GC in Durham, NC & PGA Life Member Ron Schmid (Greensboro, NC). Sabo & Padgett were eliminated on the first playoff hole. Kimball & Schmid hung in until the fourth playoff hole where Herbert stuck an approach shot tight to the hole and converted the birdie for the win. Complete results are available online.

In addition to three days of competition, the field enjoyed two social functions and a nighttime putting contest on Pinehurst Resort & CC's renovated Thistle Dhu putting course. On the afternoon prior to the tournament, Global Golf Sales conducted its season-ending Par-3 Challenge on Pinewild CC of Pinehurst's par-3 Azalea course. The majority of the field qualified through meeting/education attendance, volunteering, growth of the game activities, committee involvement, and tournament participation. The purse was $10,000 with $9,000 being dedicated to skins on each hole with no carryovers. Results can be found here.

Photographs of the week are available on Facebook.
The CPGA sincerely thanks its title partners E-Z-GO and AHEAD for their continued support of the Pro-Pro Championship.
- E-Z-GO – www.ezgo.com
- AHEAD – www.aheadweb.com

We of course also thank our three presenting partners.
- Global Golf Sales – www.globalgolfsales.com
- Stitch Golf – www.stitchgolf.com
- Tifosi Optics – www.tifosioptics.com

A number of supporting partners also contributed.
- Evolve Golf – www.evolvegolf.com
- Hole-in-One U.S.A. - www.hiousa.com
- ProGolfWeather – www.progolfweather.com
- Source4 - www.source4.logomall.com
- Merchant Services, Ltd. - www.merchantservicesltd.com